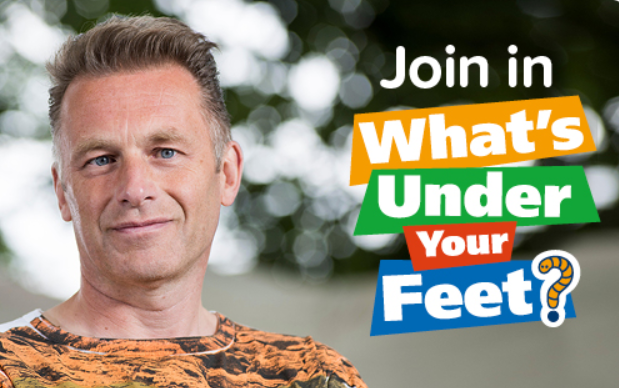 Win a trip to meet BBC presenter Chris Packham at the British Trust for Ornithology
Get Involved with What's Under Your Feet? 2017/18 and your school could win a trip to British Trust for Ornithology (BTO) HQ and meet BTO President and TV presenter Chris Packham*
Our ground-breaking citizen science campaign, What's Under your Feet? is about to kick off for a third year.
Pod schools across the UK will be helping scientists at the BTO to gain a much deeper understanding of how climate change is affecting some of our British birds.
Each time you enter data into the Pod for this year's experiment (October, March or June), you'll be entered into a prize draw to win a fun day of outdoor activities at BTO's HQ and could get to meet Chris Packham.
Plus - we also have a fantastic prize bundle, from CJ Wildlife, of carefully selected products to help you create an outstanding school wildlife garden which will go to the runner up!
As well as entering our prize draw, here are five more reasons to join in:
1. When you sign up to What's under your feet 2017/18? we'll send you a NEW giant interactive poster and stickers. Plus, you'll receive an extra special sticker if you submit data for all three digs.
2. It's a practical way to help young people understand the impact of topical science issues, like climate change, at a local level.
3. Enter data to the Pod and your school will be credited in a research paper to be published by the BTO and available to scientists all over the world.
4. Taking part gives students a taste of what it's like to be a real-life ecologist or research scientist. They get the chance to work scientifically using techniques like sampling, measuring and data collection.
5. You can decide when to take part – either during the three nominated What's Under Your Feet? weeks or on an alternative date in October, March or June.
What's under your feet weeks 2017/18
9-13 October 2017 (data to be submitted by 31 October 2017)
26-30 March 2018 (data to be submitted by 30 April 2018)
18-22 June 2018 (data to be submitted by 15 July 2018, to be eligible for the prize draw – data entered after this time will be passed to the scientists but not receive a prize draw entry.)
You can do as many digs as you like in those months.
The date of the visit to meet Chris Packham will be announced later this year. It will be arranged to fit in with his filming schedule. If the chosen date of the visit is not possible for the winning school, an alternative date or a location nearer your school can be arranged, but unfortunately Chris would not be able to attend.