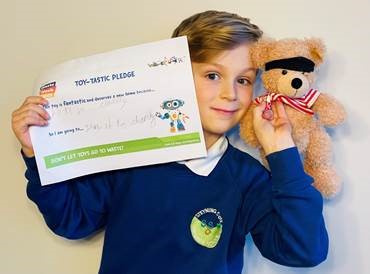 It's competition time this Waste Week!
We have two out-of-this-world competitions for Waste Week this year!
We've teamed up with our friends at Hinterland to offer one lucky school that signs up to Waste Week a Rokit Space workshop using their NASA rocket launch systems.
The experience will not only get students excited about space, but will help them understand the value of reuse – the theme for this year's Waste Week campaign – as the rockets are made from your own reused plastic bottles.
To take part, all you need to do is sign up to Waste Week before 12 March – it's that simple! We'll pick a school's name at random to receive this fantastic prize. Terms and conditions apply.
We also have six NASA Water Rokit Kits to giveaway as prizes for each of the three winning schools taking part in our Toy-tastic Pledge competition*.
These kits contain everything you need to run your own space experiments in class, whether you're studying Newton's Laws of Motion, acceleration, or trajectory. The Water Rokit has been designed to launch itself automatically at a set pressure, so you can reuse it again… and again… and again!
Take part
To take part, all you need to do is get students to find an unwanted toy or game and make a pledge to reuse it using the Toy-tastic Pledge card (there are Primary and Secondary versions available).
Send us a pic of the student holding their pledge card with the toy/game they write about (or just a pic of the pledge and the toy/game) to contact_us@jointhepod.org with the subject line 'Toy pledge competition'.
Don't forget to include your school's name for them to be in with a chance of winning this fantastic prize. And make sure to send your entries to us by midnight on 31st March 2023
The 3-winning schools will be elected at random from all schools with pledge entries.