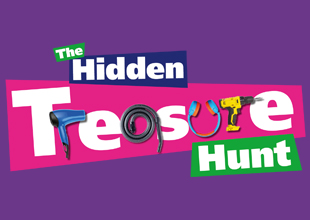 This year Waste Week is focusing on electrical waste.
Tech plays a more important role in our lives today than ever. It keeps us connected, fed, clean, healthy, educated, entertained, and productive. However, replacing electricals and tech more often is making them the fastest growing waste stream in the world and in the UK.
People are hiding 527 million unwanted electricals in UK homes - that's an average of 20 per household! If we recycled all of these it would cut as much CO2 as taking 1.3 million cars off the road.
Yet we discard 155,000 tonnes of electricals every year, instead of reusing or recycling them.
Our popular annual campaign, Waste Week 2022 is calling on 17,800 schools and over 3.8 million students and parents, in the Pod school network to take part in a "Hidden Treasure Hunt" Competition (17th March – 14th April 2022) and help make this the largest collection of e-waste in the UK.
Young people will get to learn about the importance of disposing of electrical waste responsibly, through compelling resources such as this year's campaign film featuring Captain Busta and HypnoCat and see their individual and collective positive impact with e-waste totalisers and school leader boards. All schools that participate are in with a chance to win £5,000 of Microsoft tech.
Over 300 schools have already signed up to Waste Week and we are now calling for more schools to sign up to take part in a Hidden Treasure Hunt. Sign up today!
The Hidden Treasure Hunt competition is being delivered through a new partnership with Currys, Microsoft, and Recycle Your Electricals.
DOWNLOAD: Press Release 001 - WASTE WEEK 2022 Partnership Announcement.docx