North Yorkshire County Council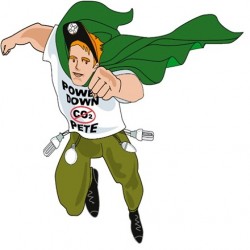 North Yorkshire County Council
North Yorkshire's energy traded service offers a whole school approach to energy management. You cannot be an energy efficient school by simply improving the heating controls. The whole school needs to be involved from the children to the school governors. We actively promote Eco schools and the Pod by supporting school staff and engaging the children .'Power Down Pete' is the super hero alter ego of Carbon reduction officer Peter Bell. He flies into assembly to deliver his energy saving message to primary schools and runs lessons and workshops which deliver environmental elements to enrich the curriculum.
Ruth Stacey is the officer in the team who organises events, delivers school training and advises schools on the no cost, low cost things they can do to improve energy efficiency.
Both officers are qualified teachers with many years classroom experience fulfilling this role for the last six years.
They also work with Yorkshire energy partnership who are their technical experts and who realise their practical projects in schools.
This is a very popular service which has seen eco schools registrations in North Yorkshire rise from 36% to now outperforming the national average at 71%.
Schools have also realised significant year on year savings in both energy and water as a result of the schemes run by the team.
This is what some of the schools have said about the service.
"Pete was brilliant in his delivery and had a fab rapport with all of the children – altogether one of the best days we have had in a long time."
Duggie Speight (Headteacher at Carleton Endowed CE Primary School)
"I was incredibly impressed with the presentation given by Powerdown Pete. His ability to get the message across and relate to the children was outstanding."
Trish Bishop Governor, Ripley Endowed School
"Ruth, Thank you so much for coming to see me yesterday. I now feel more confident that we are actually doing okay and working in the right direction…"
Jacquie Norton Oatlands Infant School Harrogate
"Ruth, Just to let you know our brilliant news – we were assessed yesterday and have been successful in gaining the Green Flag award!!! So thank you for your support and guidance at the last support meeting. We are all thrilled here! "
Chris Sayner Admin Officer Kirk Smeaton CE Primary School Selby
"The assembly was fun, informative and more importantly memorable. I even had one year 6 boy come up to me and say "Power down Pete is cool!"
Leanne Slinger teacher Kirkby Overblow school.
These officers are available to all schools across the North East and areas of Yorkshire on a contract or one off basis.
Contacts
Schools Carbon Reduction Officer
Ruth.stacey@northyorks.gov.uk
Tel: 07855 029531
Schools Carbon Reduction Officer Power Down Pete
peter.bell@northyorks.gov.ukTel: 01609 535661