Bright Little Labs
Bright Little Labs is teaming up with the Pod to educate children about internet safety, computer and natural science, through the new and exciting Pod campaign Mission World Wide Web!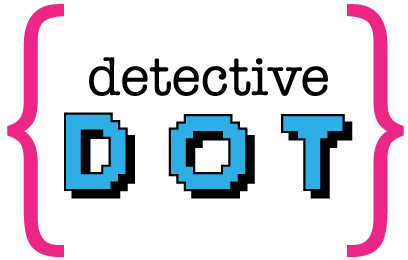 Bright Little Labs
Bright Little Labs is building a kids media giant for the 21st century. They make interactive stories to promote critical thinking, computer science and equality for kids aged 5+. Their flagship story is about Detective Dot, a tech-whizz who is on a dangerous mission from the Children's Intelligence Agency (CIA). The company provides a lo-fi and accessible route into coding. Kids join the CIA to complete STEM-focused 'missions', both on and offline, which complement the UK Computing Curriculum.
Starting on Kickstarter in 2016, Bright Little Labs was part of the Cabinet Office backed tech-for-good accelerator, Bethnal Green Ventures. Bright Little Labs make physical books alongside an online kids club (kids can join the CIA and carry out top-secret missions). They've reached over 30 countries, and have Cabinet Office backing. Next, they're launching an exciting internet safety activity in schools across the UK with EDF Energy's the Pod, and releasing the first of 3 new books with a soon-to-be announced publisher. They've just partnered with Turner (who own Cartoon Network!!!), so they're making cartoons and games too.
They are widely recognised for their story-led approach to 21st century skills (they received the 'EDF Energy Stem Pulse Award' in 2016, and were named 'Top Coding Toy for Kids' by The Independent in 2017 and the Evening Standard in 2018).
Their founder and CEO, Sophie Deen, is an active advocate for diversity in kids media and in the tech industry. She was named one of Computer Weekly's 'Most influential women in UK IT' in 2018 and 2017, the Barclays/Everywoman 'Startup Founder of the Year' in 2017, the British Interactive Media Association's 'Innovator' in 2017, and the London Tech Week 'Changemaker' in 2018 for her work to inspire children into STEM (Science, Technology, Engineering and Maths).
Bright Little Labs + The Pod
Bright Little Labs and the Pod have been working together since 2016, when they were the winners of EDF Energy's 2016 Pulse awards, given to innovative products or services that address the digital skills gap by sparking children's interest in STEM. Bright Little Labs were chosen thanks to their unique lo-fi, narrative-led approach to digital literacy, helping to engage kids from a diverse range of backgrounds into a career in STEM.
The two companies have collaborated to develop innovative materials to teach children about how the internet works and how to stay safe online.
The materials introduce the World Wide Web and its natural equivalent, the Wood Wide Web. They explain how digital information is sent through the cables of the World Wide Web, just as nutrients are sent through the fungi network of the Wood Wide Web. Children will learn about the interconnectedness of living organisms and the interconnectedness of networked devices.
The materials will also introduce children to the mysterious world of the CIA (Children's Intelligence Agency), a top-secret organisation created by Bright Little Labs to encourage kids to carry out STEM-based activities on and offline. From an A1 wall poster that depicts the symmetry between the network of underground wires and the natural network of roots and mycelium, to specially designed stickers for students, these free materials will be available on the Pod very soon!
Offers for Pod schools
Bright Little Labs offer a discount on bulk purchases of Detective Dot books for schools. Please contact schools@detectivedot.org to find out more.